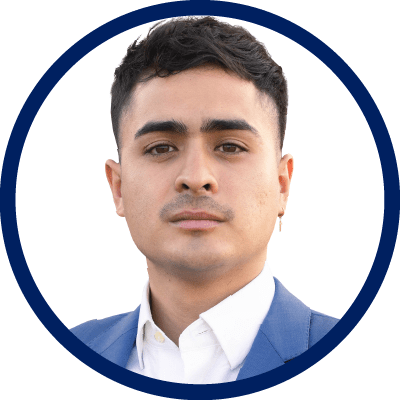 Andrew Orona
Executive Assistant
Meet Andrew Orona, Executive Assistant to CEO Jeremy Salvador at Miod & Company. Andrew joined the team in July 2020, bringing with him a wealth of experience from his previous role as an Executive Assistant to another CEO. His main responsibilities included administration, fundraising, and managing teams.
Before joining Miod & Company, Andrew had a strong desire to break into the world of business but felt he needed to gain a better understanding of key accounting principles. When he learned about Miod & Company, he knew it was the perfect opportunity to grow as a professional and pursue his interest in the business. He was immediately drawn to the company's reputation for challenging and developing its employees. And, he was not disappointed. 
Since joining the team, Andrew has thrived, learning and growing in his role. He attributes much of his success to the solid team at Miod & Company, saying, "I can't begin to express what I have gained from this company. I think the biggest thing if I was forced to narrow it down, is a solid team. I have gained an amazing team here at Miod that I love working with."
As Executive Assistant to Jeremy Salvador, Andrew's primary responsibilities include coordinating Mr. Salvador's daily schedule and managing his correspondence. He also assists with various tasks such as taxation, ERC, and litigation. One of Andrew's greatest strengths is his dedication to the company, Mr. Salvador, and the team. He is always willing to go the extra mile to ensure that everything runs smoothly.
When he is not at work, Andrew enjoys traveling, with Spain being his favourite destination. He is a fan of movies, and his favourite is Willy Wonka and the Chocolate Factory. Andrew also likes to watch Hart of Dixie in his spare time. His favourite hobby is learning new skills, and he is particularly interested in learning new languages. His favourite book, besides the Bible, is The Stranger. In his leisure, he enjoys working out with his friends and listening to sermons. He is very content with his married life and is proud of his beautiful wife. A fun fact about Andrew is that he studies the language of ancient Hebrew. When asked what he would do if he were given one million dollars but had to spend it all in one day, he said, "he would buy a house for his wife and give it to the church."
We are thrilled to have Andrew on our team and look forward to his continued contributions to Miod & Company.
Let us take care of the accounting
Fill out our contact form and we will connect you with an expert that can help
Schedule a Free Consultation
Join Our Newsletter
Subscribe to get the latest updates.