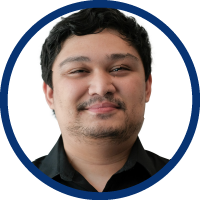 Angelo James Serrano
Business Management Specialist
elo James Serrano (known as AJ) joined Miod & Company in June 2021 as a Business Management Specialist. AJ previously worked at Bloomingdale's before joining our firm! He was always on the floor doing his tasks and casually assisting customers as much as possible. Talking to new people and creating business relationships was something he grew into and mastered in previous jobs. In college, he attended Cal State Northridge. His communication skills improved significantly there, preparing him for success at Miod. He was trying to find a job that was similar to what he wanted to do in life, as well as branching out to different professions. Although he began his career at Bloomingdales, he did not have enough opportunities to grow as a professional. This new job with Miod provided him with a challenge while also allowing him to learn and grow! 
AJ's main responsibilities include following up on any leads generated by the business management team. Tax Overages and Employee Retention Credit (ERC) are his two main areas of focus, with an emphasis on ERC now. He follows up with leads to get them to sign engagement letters, and he supervises the remote team, which includes reaching out to leads and answering any questions they may have. He reports to Jeims and works closely with Edwin on ERC to ensure that everything is running smoothly, as well as gathering and targeting specific industries. He is the primary sales caller for ERC, overseeing the entire tax overage process and making calls. He is proactive in reaching out to claimants, sending/receiving documents, working with attorneys to ensure that the process is smooth between clients and our organization, formatting documents per state rules, and having everything they need to complete the work and get paid. He is doing an excellent job as a facilitator for tax overages alongside ERC. 
Building computers, researching parts, and buying the latest new tech is something he loves to do. He had always wanted to be like Bill Gates to make his mark in the technologic-modern world. AJ has been an enthusiast of video games since he was a kid and used to own a Super Nintendo system. His favorite games include League of Legends, Valorant, and Maplestory. As a tech-savvy person, he likes keeping up with new computers and technology. Fun Fact about him "He can bend his thumb more than the average person". 
Let us take care of the accounting
Fill out our contact form and we will connect you with an expert that can help
Schedule a Free Consultation
Join Our Newsletter
Subscribe to get the latest updates.